Level 3
CMI in First Line Management (RQF)
The purpose of this 6-day programme is give First Line Managers the necessary tools and understanding to become better leaders, to help them to get the best from their teams and to provide a platform from which to develop their own effective style of leadership and management.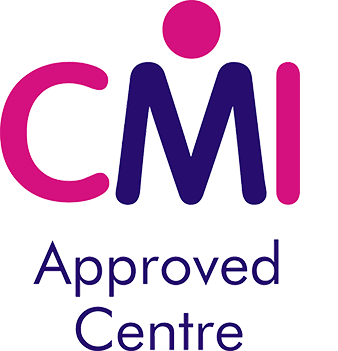 Course Overview
At the heart of the programme lies the syllabus for the CMI Level 3 in First Line Management. This is an internationally recognised qualification that candidates may choose to complete during the course. The qualification is accomplished through the completion and evaluation of work-based assignments designed to reflect the skills and experience of the delegates enrolled.

The comprehensive programme introduces core concepts of management and leadership theory in 36 guided learning hours over six one-day workshops. Further one-on-one tutorial support is given to candidates completing the assignment(s), if they elect to obtain the official qualification. Delegates can also access a purpose designed coaching support package to embed the training in the work-place if required.
Completion of the qualification is optional and requires registration of the candidate with the awarding body. It is awarded in three levels; Award, Certificate, or Diploma. Further information about the qualifications is available at the bottom of this page in either the fact sheet or the more detailed syllabus document.

The benefits for individuals taking part include;
Understanding the role of the manager and leader
Using feedback and self-review to enhance leadership skills
To learn solid techniques for planning and decision making
Being able to put skills learned on the programme into practice
Gaining a nationally recognised qualification (optional)
Peer based learning and review
The benefits to the organisation include;
A qualification focused on work-place activity and improvement if required
Managers with the skill and knowledge to manage their own professional development
Managers with the self-awareness to lead and deliver results at a strategic level
Removal of leadership barriers to growth and diversification
Managers with the knowledge required to make a real difference
Next Course
| | |
| --- | --- |
| Dates | Apr 2019 |
| Duration | 6 Days |
| Level | 3 |
| Location | Hexgreave Hall |
What You Will Learn
Each of the six workshops is self-contained and focuses on a particular management and leadership topic. This provides the underpinning knowledge required for the qualification, allowing the delegates to discuss and explore the various issues that are relevant to them. Indicative module content is outlined below for each of the six days of the programme.
Where does leadership come from?
Is this a skill that can be learned and developed or do we have to be born as effective leaders?
The concept of leadership styles and techniques
The leadership in action theory (John Adair)
What do people look for in their leader?
Case studies on great leaders
Providing clear focus and direction to your team
Developing people through delegation
The learning cycle concept (Kolb)
What is a team?
The characteristics of high performing teams
The stages of team development
Identifying individual strengths and managing weaknesses
Team Role theory (Belbin et al)
The individual team roles
Managing the individuals within the team
Motivation - through vision, mission and values?
What motivates people?
Motivation theories and concepts (Maslow, McGregor & Hertzburg)
People are complicated
Identifying team, individual and personal development areas and how to address them
An introduction to negotiation skills
An exercise in which your tribe negotiates for a piece of 'The Island of Opportunity!'
Barriers to effective communication and how to overcome them
Choosing the right channel of communication
Team v individual communication
The importance of providing a clear focus
Presentation skills and techniques
Getting the message over
Checking the understanding and feedback
Transactional Analysis (Berne)
How do I use my time at the moment
Re-active or pro-active?
How do my people use their time
Techniques for planning and prioritising
The concept of urgency versus importance
The planning cycle
Assessing risk
An introduction to Project Management
What is Management Counselling and when should it used
Discipline and grievance process versus counselling
Appraisals and development sessions
The role of the appraisal
Conducting a counselling session
Coaching as a development tool
The GROW model
Who Should Attend
The programme is designed for First Line managers and those aspiring to that role. The qualification is flexible and allows delegates to focus on management areas relevant to their job-role. Completion of the Award or Certificate at Level 3 provides a progression route to Diploma level if required or progression to Level 5 at a later date. Candidates may come from any size organisation and any sector.

Sessions are normally held two weeks apart (with the occasional three week break for holidays and half-terms etc). Delegates who miss a session for a legitimate reason will be accommodated on subsequent programme (subject to space).

Further information
The programme is designed for six to twelve delegates and runs regularly at our Hexgreave Hall training suite.

It can also be run in-house with bespoke content to suit your organisation if required. We also offer a personal coaching package that can be taken out in conjunction with the six day training programme. This is to enable the delegate to embed the training in the workplace. Please contact us for details of this service.

Should delegates require registration with the awarding body to complete any of the optional Level 3 qualifications that are available with the programme, then a further fee (to cover CMI registration, tutorial support and assignment marking) will be payable. The fee is dependent on the level of qualification taken.

The qualification options are listed below, however we suggest that you discuss with us which level may be most appropriate for your delegates. Further CMI qualification information can also be found on the Level 3 course page on our website.
Award (6 credit points & one assignment)
Certificate (13 credit points & 2 assignments)
Diploma (37 credit points & 6 assignments)
Further CMI qualification information can also be downloaded below.
Testimonials
"I have learnt a lot more than I expected to on the Level 3 course and have even had a key role in supporting the shift leaders and the senior team leaders with their Level 2 course. This has helped me not just as a leader but also as a person."

Nathan Rawdon

Shift Manager Polypipe Civils Ltd
"Delivered by Brent Warren, the course was very engaging and fun to be involved with. There were some very helpful reminders and tips around how best to motivate a team and to effectively manage time, which will definitely help me in my new Team Leader role."

Rhys Wyborn

Partner Geldards LLP
Course Tutors
Simone is a highly experienced professional HR practitioner, consultant and trainer. She designs and delivers HR, Customer Care and Leadership and Management training interventions to 'Blue Chip' companies, Public Sector organisations and SME's across the UK.

Brent is the Director of Training at The Centre for Management & Business Development Ltd (CMBD). He is the lead tutor on the Level 7 and Level 5 management development programmes and his responsibilities include the development of the tutors and trainers as well as overseeing course content and quality.


Upcoming Locations & Dates
CMI First Line Management (RQF)
Hexgreave Hall
CMI First Line Management (RQF)
Hexgreave Hall
Ready to find out more?
For more information on coaching, consultancy, training programmes, courses or our bespoke training service, please get in touch.